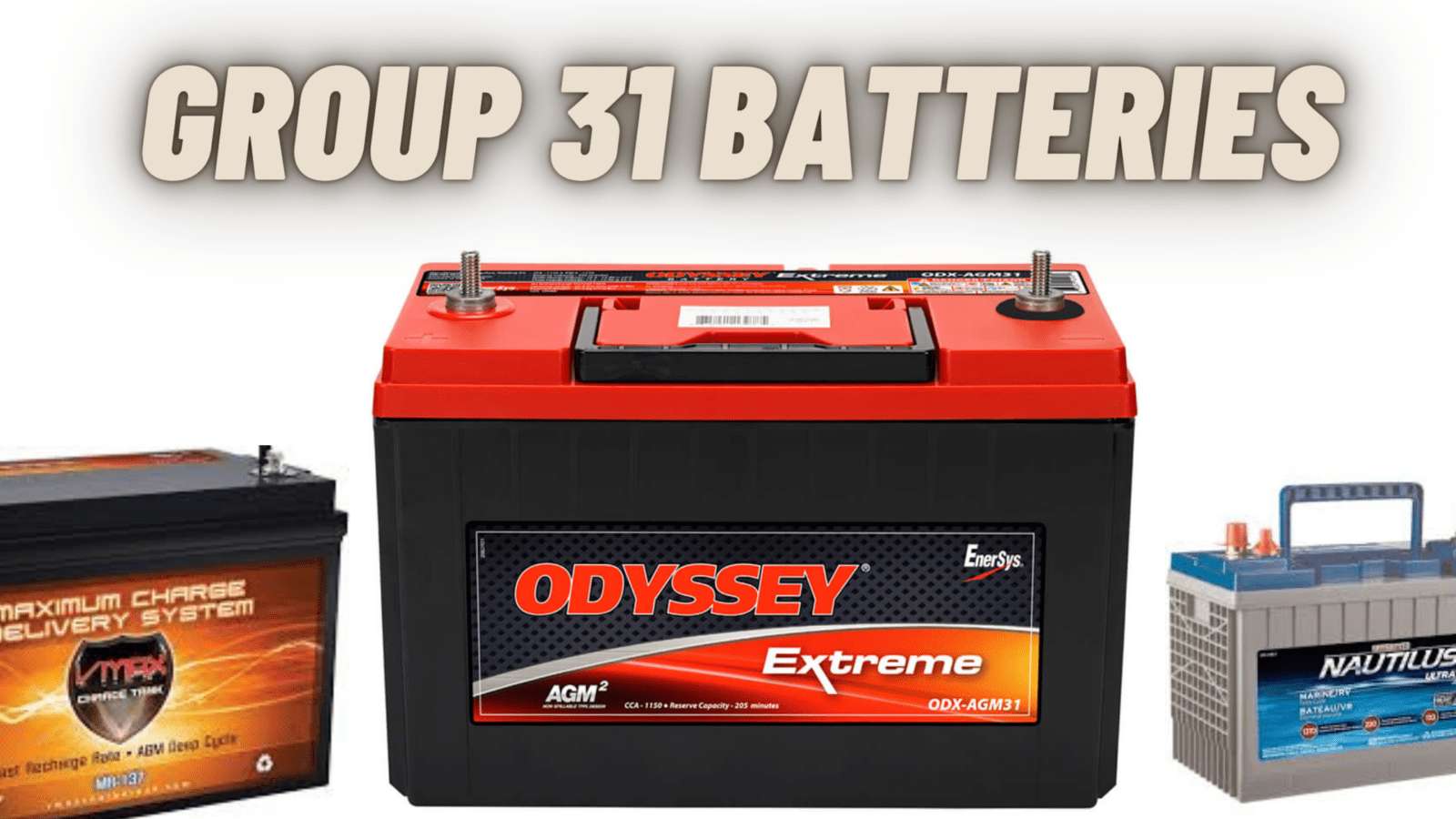 We all hate to hear a dead battery's sound, especially when we are in a rush to go somewhere or do something. Now we have to look franticly online or in-store for a Group 31 deep cycle battery only to find out there are many of them, and we don't know which to choose from. What makes finding the right Group 31 batteries hard to choose, is their versatility that can cater to certain vehicles and the different types of Group 31 deep cycle batteries in the market.
Group 31 batteries are named this way due to their physical dimension of the casing of the battery. Unlike what many people believe, the case size does not affect the Amp Hours. However, if there is a larger case size, the battery would have a higher capacity.
These batteries are a standard type of commercial battery used for heavy-duty trucks or boats, or regular vehicles.
To find the best Group 31 deep cycle battery that suits your needs, we made a research and came out with the best options you can find for your money.
3 picks for Group 31 Deep Cycle Battery
---
---
This powerhouse of a battery stands alone as the best Group 31 deep cycle battery. The Odyssey 31 is a heavy-duty battery that provides one of the strongest starting power and has a very fast recovery time.
If you are looking for durability, then this battery is for you. As soon as you open the box, you will tell of its incredible durability by the incredible it has.
When you take a road trip and plug your electronic devices into either charge or play the music, you want to make sure that the car's battery will be able to handle it. With the Odyssey 31, it will take care of all your electronic needs within the car.
With its strong starting current, good discharge, and deep cycle operations, this batter keeps your vehicle running and your devices charged for a long time without losing power.
In terms of quality, the battery is made with virgin lead plates that help cover the battery's surface area and provides maximum power and performance.
The Odyssey 31 has a longer cycle like making it better than other batteries that run on conventional deep cycle batteries. What's more, is that you will not have to worry about any spills or corrosion. This is due to its incredible AGM technology it prevents these acid spills and can resist corrosion.
The Specification includes:
· Weight: 77.8 lbs
· Dimensions: 13 x 6.8 x 9.41 inches
· Made in the USA
· Warranty: 3-year limited and 4-year full replacement warranty
· CCA: 1150 A
· Capacity: 100 Ah
· Voltage: 12 volts
· Reserve Capacity: 205 mins
· Service life: 3–10 years
· AGM design
---
Nautilus 31 Deep Cycle Marine Battery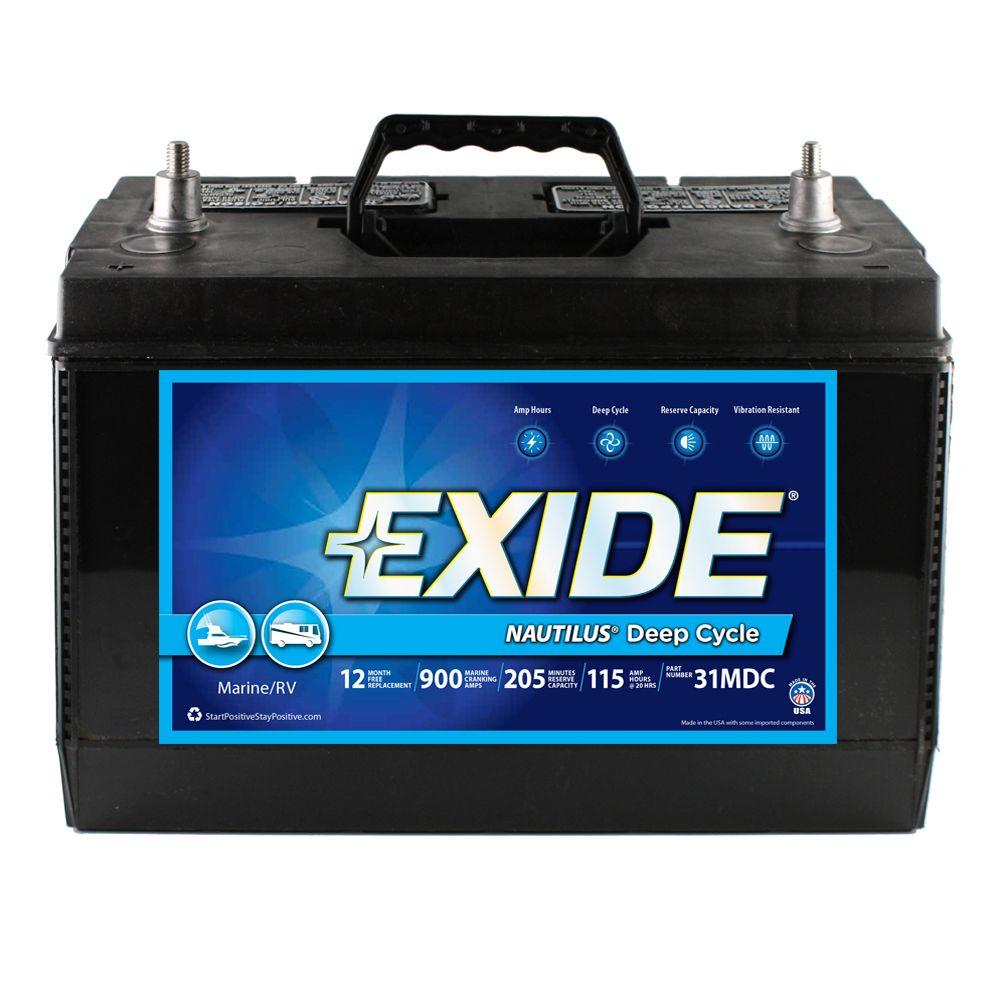 ---
The Nautilus 31 Deep Cycle Marine battery is an exceptional battery to use. This battery is designed to continuously run trolling motors, live wells, inverters, depth/fish finders, and other marine-based accessories.
With this battery, you will be able to discharge and recharge the battery as many times as you want without the risk of damaging the internal components. The battery also has vented pods that are strategically placed on top of the battery. When charging, it is recommended that the battery should be in a well-vented area.
Nautilus 31 has thick grids and denser active materials placed on the plates and has great alloys designed to keep providing many cycles.
Some of the specs of the battery include:
725 cold-cranking amps at 0°F
900 cranking amps or marine cranking amps at 32°F
205 minutes reserve capacity at 25 Amp
115 Amp at 20 hours (115 Ah) – reference rating
12-month free warranty
---
VMAX MR137-120 AGM Sealed Marine AGM Battery
---
With this Group 31 battery, the VMAX MR137 is one of the most affordable batteries in this line-up. Despite its affordable price, the battery is still considered one of the best Group 31 batteries due to its efficiency.
Normally the batteries use traditional silica gels, which is not as efficient as the VMAX MR137. The VMAC MR137 comes with an electrolyte suspension system that has a high absorbent glass mat.
This allows the battery to absorb and, at the same time, being able to contain the electrolytes within the battery that promotes maximum efficiency. It also eliminates the risk of any leakage or corrosion within the battery. The battery also prevents acid spills and keeps the battery running for a long time, making it very reliable and durable.
Due to its durability, the battery will power your vehicle for long a period with incredible ease without the fear of any drop-in output.
What sets this battery apart from its competitors is its inclusion of lead-tin alloy plates to make the battery perform at its best. This battery can be used in floating or cyclic discharge applications.
The VMAX MR137-120 also doesn't rely on the water. With this battery you do not need to add water to the VMAX tanks or check the electrolyte's gravity during its floating service.
Some of the VMAC MR137-120 specifications include:
Weight: 75 lbs
Dimensions: 12.9 x 6.8 x 8.5 inches
Made in the USA
CCA: 900 A
HCA: 1740A
Capacity: 120 Ah
Voltage: 12 volts
Reserve Capacity: 230 mins
Warranty: 1-year full replacement
Service life: 8–10 years
AGM design
Choosing the correct Group 31 deep cycle battery can be a bit frustrating due to its various types of batteries. If you click on the batteries' links, you would be one step closer to finding the battery that you need.
Related articles