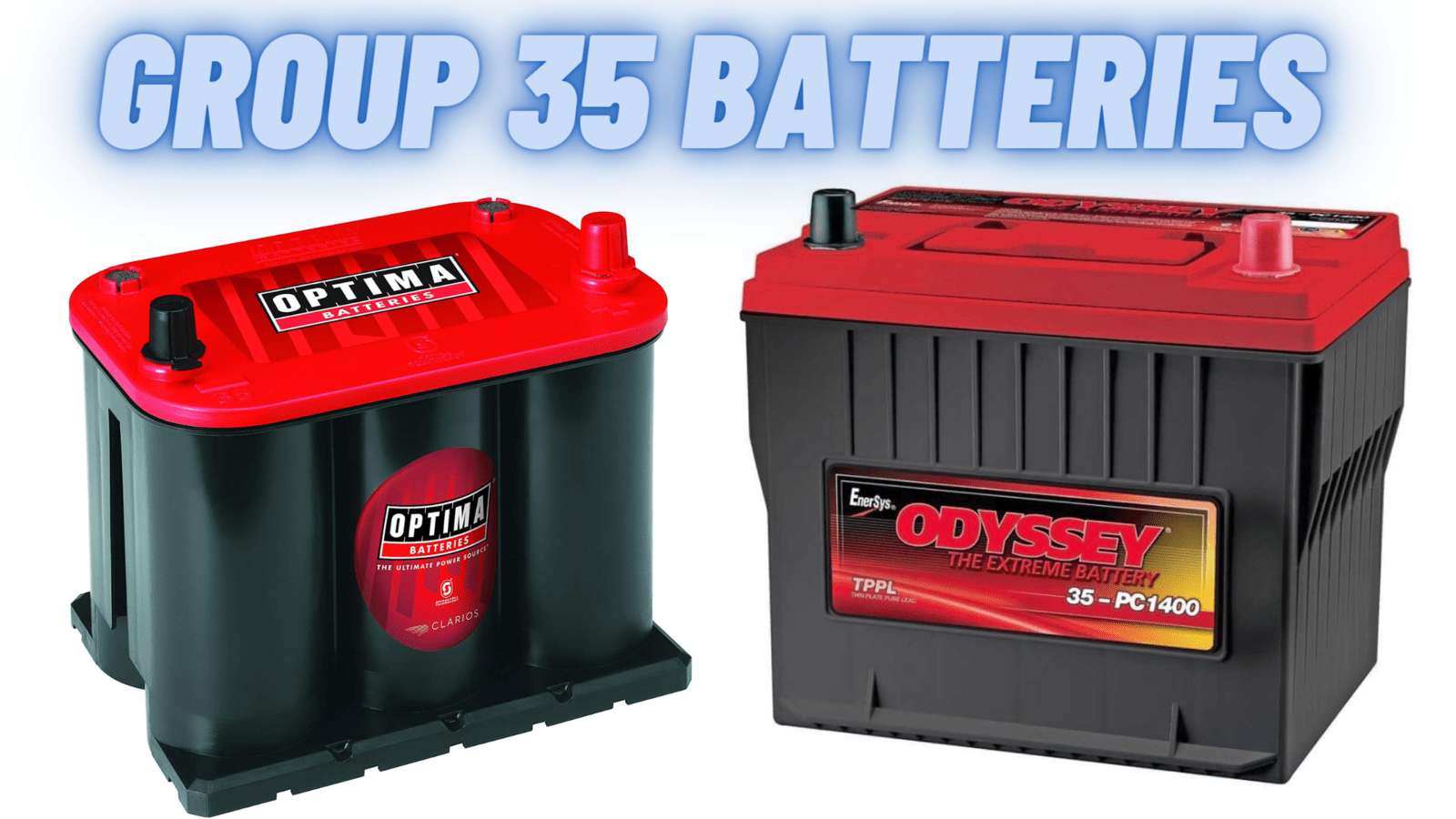 Group 35 batteries are used in normal cars, trucks, RVs, and other appliances that need a starting or dual-purpose battery. These batteries are normally very popular and reliable lead-acid batteries and that's why we decide to pick the best Group 35 battery you can buy in 2022.
According to the Battery Council International, most Group 35 batteries measure at approximately 230mm in length by 175mm in width and 225mm in height. However, some batteries do have different dimensions, so you must make sure the battery size you need to get the correct fitting.
Whether you are looking for a replacement battery for your vehicle or learning more about Group 35 batteries, then here we have compiled the Top 5 and picked the best Group 35 battery for your next purchase.
At a Glance, the Top 5 Group 35 battery list Include:
---
---
The Odyssey 35 is an American brand name battery that is made in the USA like other Odyssey products. In terms of power, the Odyssey 35-PC1400T has a very strong starting power – considered one of the best out of the 5.
The battery includes a deep cycling capacity as well as a rapid recovery rate. The CCA compared this battery to other AMG batteries, and the result is the Odyssey 35 has an amazing reserve capacity.
What's best is that you will not need to worry about if your battery has enough juice to cater to all your devices that are plugged in for charging. This battery has a very strong power that can take care of any electronics within the vehicle.
Other than power, the 35-PC1400T has 850 cold crank amps, which will get your vehicle running in a very short period.
The battery also has one of the highest recharge efficiencies of any lead battery in the line-up and the market, making this battery stand alone. It is also spill-proof, resistant to any type of vibration, and can handle extreme temperatures.
The Specifications Include:
AGM design
Weight: 50 lbs
Dimensions: 13.5 x 11 x 9.8 inches
CCA: 850 A
Capacity: 55 Ah
Reserve Capacity: 100 mins
Service life: 3-10 years
Warranty: 3-year (limited), 4-year (full replacement)
---
---
DieHard batteries are known to be resistant to high vibrations. This battery can edge out any vibrational resistance and is very versatile compared to most batteries.
If you have a long-range vehicle, then the DieHard 38275 battery is the battery for you. These vehicles include trucks, watercraft, RVs, and off-road vehicles. The battery also does exceptionally well to any type of performance or tuner cars.
The 38275 battery can handle any temperature and not be overwelled by the demands.
Most DieHard batteries have a good battery, but this particular battery exceeds all expectations. It has a very long life span at high performances, and it is also maintenance-free.
The DieHard 38275 can be used on a lot of different vehicles, which is why this battery is versatile. The vehicle brands include Audi, Chrysler, BMW, Volkswagen, Mercedes Benz, Porsche, Volvo, and Saab.
With its amazing track record as a group 35 battery, the battery has powerful negative and positive plates that are made to protect you from electrical short-circuits.
The Specifications Include:
· AGM design
· Weight: 42 lbs
· Dimensions: 9.8 x 6.9 x 8.9 inches
· CCA: 650 A
· Capacity: 55 Ah
· Reserve capacity: 100 mins
· Made in the USA
---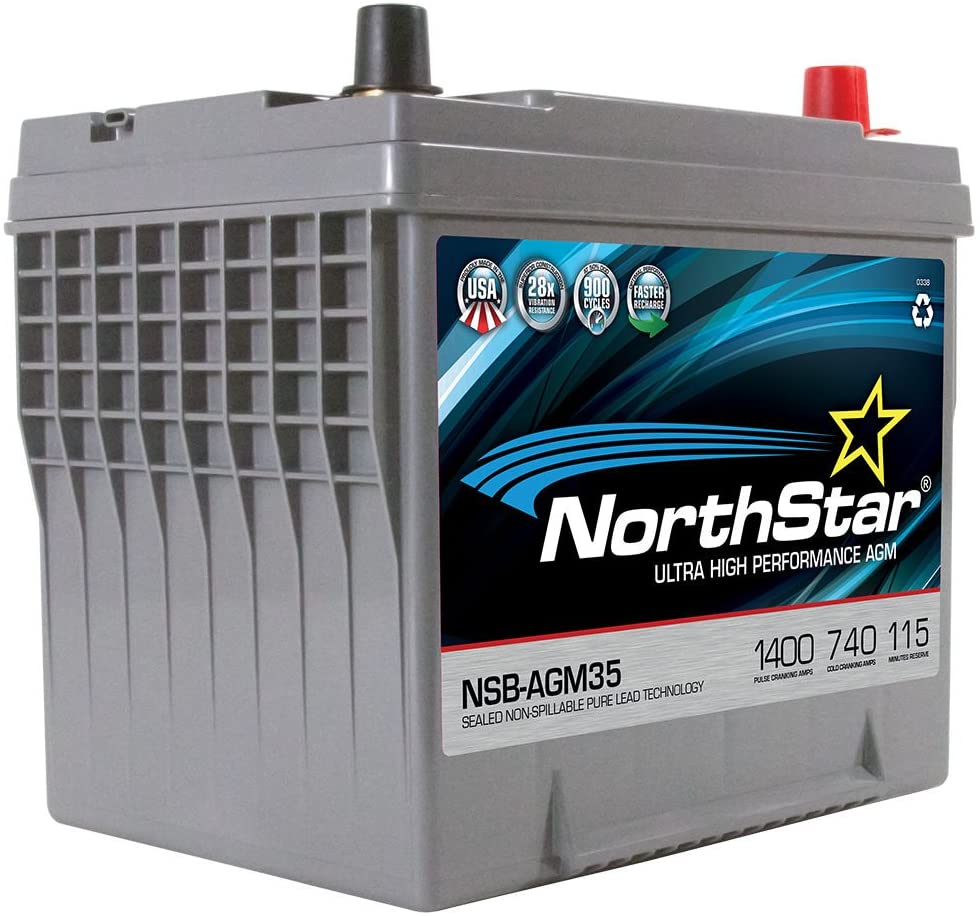 ---
When purchasing a group 35 battery, you would want to save as much money as you can when it comes to performance. The NorthStar NSB-AGM35 has a strong optimal performance, and this makes the cost for maintenance very low.
The engineering of this group 35 battery is quite impressive. The battery has a thin plate that helps it with its high reserve capacity, amp-hour capacity, and cranking power.
In terms of cycle abilities, the NorthStar battery has that covered. Normally NorthStar batteries are known for their deep-cycle capabilities.
You will be able to use this battery for any type of boat, bus, truck, RV, and fifth-wheel vehicles.
The NorthStar NSB-AGM35 is also spill-proof and resistant to corrosion and vibrations. So, you will not need to be worried about looking over the battery for much time. The battery has a fast-charging rate as well as a low self-discharge rate.
The Specifications Include:
· AGM design
· Weight: 49 lbs
· CCA: 740 A
· Capacity: 60 Ah
· Reserve Capacity: 115 mins
· Service life:
· Warranty: 4 years full
· Made in the USA
---
---
Optima batteries will give your vehicle the top of the line performance rate right when you take it out and install it. The battery provides a burst of energy when it's on the ignition, making it versatile and suitable for streetcars, SUVs, and trucks.
Resistance is a key component when searching for group 35 batteries. The Optima 8020-164 give about 15 times more vibrational resistance than its other competitors.
The vehicle's start-up is easy in any type of weather due to its reserve capacity of 90 minutes.
The Specifications Include:
· SpiralCell design
· Weight: 31.7 lbs
· Dimensions: 238mm x 171mm x 195mm
· CCA: 720 A
· Reserve Capacity: 90 mins
· Warranty: 3 years
· Made in the USA
---
---
The Delphi BU9035 battery is one of the most affordable batteries in this group 35 line up. Although it is affordable, the battery is still referred to as a high-quality battery.
The battery has a very high reserve capacity, which allows your vehicle to start up whenever you need to easily.
Alongside its affordability, the Delphi battery can run and charge various electronics in your vehicle without breaking a sweat.
The Specifications Include:
· AGM design
· Weight: 39.2 lbs
· Dimensions: 9 x 8 x 6.5 inches
· CCA: 680 A
· Capacity: 60 Ah
· Reserve Capacity: 100 mins
· Warranty: 3 years
· Made in the USA
When choosing the right Group 35 battery, you must ensure that you are getting the right fit and to see what type of vehicle you are running. This will help to choose the right group 35 battery easier.
Related articles